Energizer Portable Power Station PPS700W01
Energizer Portable Power Station will safely supply power to your life! PPS700W01 portable power station is designed as home/outdoor activities'/emergency power supply. The compact size with a big capacity(626Wh) can solve your worries about suddenly run out of power of your smartphone, tablet, camera, lighting while camping outdoor or during a power outage at home. Great success in emergencies! Energizer can provide electricity safely in your daily life.
Four Recharging Methods: Energizer solar generators can be recharged by AC Adapter (AC wall socket)/ Solar Panels (Built-in MPPT) / Car Cigarette Lighter Socket/ PD60W Mode Fast Charging.
Multiple Charging Ports: Energizer portable power station with 4*USB-A Output, 1*AC Output, 1*Type-C Output (PD60W), 1*DC Input, 2*DC Output, 1*Car Charger Output, multifunctional supplies to meet different needs.
Easy to Carry: Weighs 12 lbs with dimensions 7.9*6.8*10.2 inch. Energizer PPS700 with a unique handle design will be a good companion for home use, RV, camping, picnicking, , Hiking, boating, fishing, sudden power failure and other appliances.
Numerous Output Ports for More Devices: This portable power station can provide enough power to power up to 9 devices simultaneously for hours, use for blankets, projectors, cellphone, laptops, drones, cameras, CPAP, compatible with most portable chargers, foldable solar panel kits.
Six Battery Protections: BMS(Battery Management System) can protect your devices in use with six major protections: Overcharge, Over-current, Short-current, Thermal, Over-discharge, Over-voltage.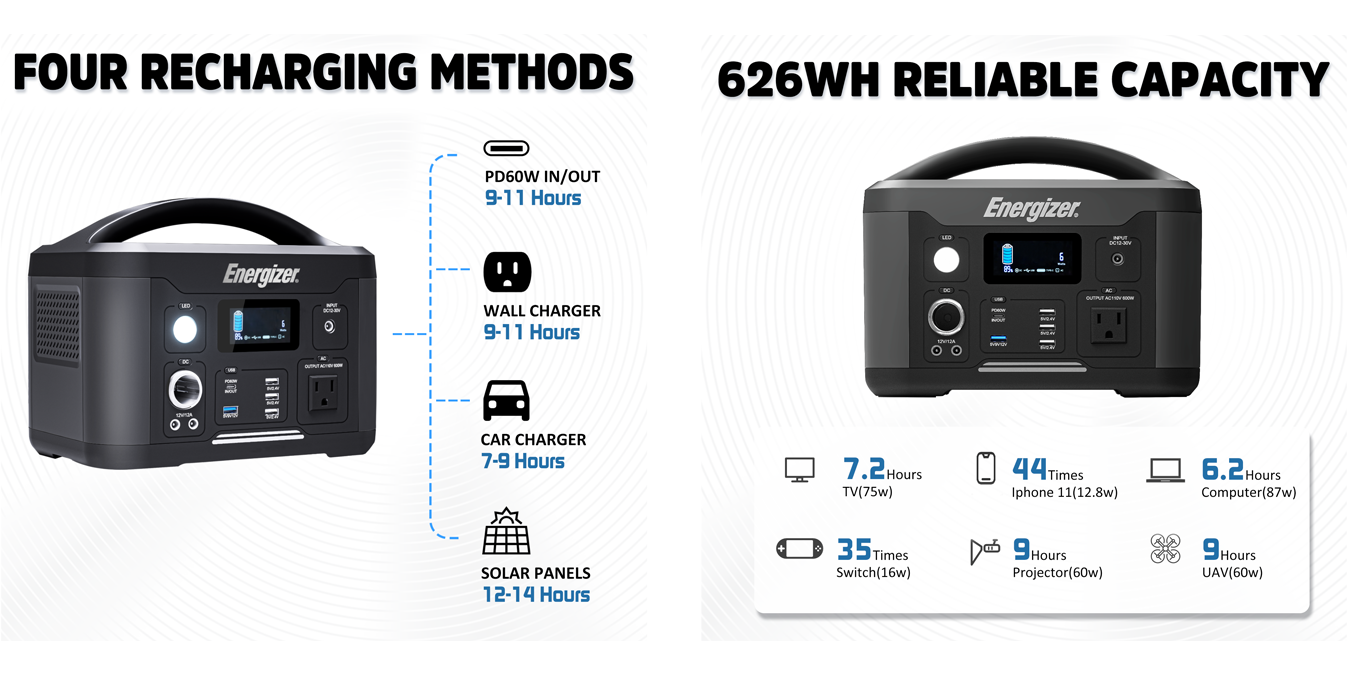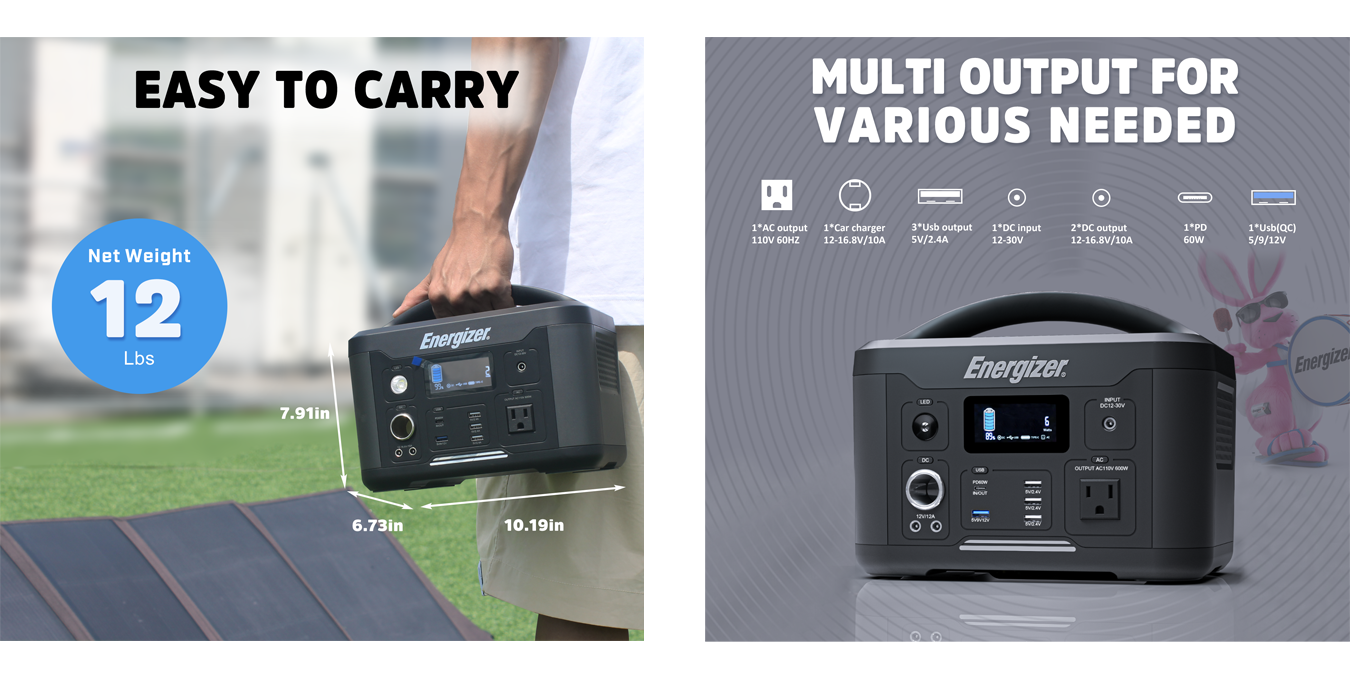 Specs

Model Name
PPS700W01
Battery Capacity
626Wh, 174,000mAh
Weight
5.5kg
Dimensions
10.2 x 6.8 x 7.9 inches
Operating Temperature
-20 ℃ – 55 ℃
Recharging Temperature
0 ℃ – 45 ℃
1 x AC Output
Rated Output 600W 220V 50Hz
1 x Type-C Input/Output
PD60W (5V/3A, 9V/3A, 12V/3A, 15V/3A, 20V/3A
4 x USB-A Outputs
5V, 2.4A; QC (5V/3A, 12V/3A, 15V/3A, 20V/3A)
3 x DC Outputs
12-16.8V/10A
1 x DC Output
12-30V (Max 100W)
Pure Sine Wave
Yes
Battery Maintenance
Charge every 3-6 months