Energizer Portable Power Station PPS320W01
Energizer Portable Power Station will safely supply power to your life! PPS320W01 portable power station is designed as home/outdoor activities'/emergency power supply. The compact size with a big capacity(320Wh) can solve your worries about suddenly run out of power of your smartphone, tablet, camera, lighting while camping outdoor or during a power outage at home. Great success in emergencies! Energizer can provide electricity safely in your daily life.
Big Capacity with 320Wh: Packing a huge capacity of 320Wh and high 300 wattage
Multiple Outputs: 1 PD 100W input/out port, 1 DC input port, 1 standard PURE SINE WAVE AC outlet 220V, 1 PD60W USB-C output port, 2 USB output ports, 1 DC5521(5.5mm in diameter) 11.2-14.6V output port and 1 cigarette lighter output port
Ideal Backup Power for Outdoors: Energizer Portable Power Station with just 9 pounds weight which is easy to carry and easy to store wherever you go.
Recharge Everywhere: PPS320W01 can be fully recharged from the wall socket in 5.5-6.5 hours, and be fully recharged by car charger outlet in 5.5-6.5 hours. You can also charge it under straight full sun in 3.2 hours by connecting 100W solar panel(Not included).
LED Flashlight: 3-level brightness(high,medium,low)
When you are in danger in the wild,double press the button twice for SOS Mode, Energizer will provide security confidence
LCD Display Keep Track of Your Power: The LCD display lets you easily keep track of current input and output, and the estimated time left to fully recharge the power station, so you can use the power wisely and intelligently.
Premium Battery Cell: Energizer PPS320W01 power station uses the safest LifePO4 battery to ensure stability. Its high-rate charge and discharge stable up to 2000 times, the life cycle of up to 10 years.
Safety & Reliable Backup Power Supply: Pure Sine Wave inverter, working faster, quieter and more stable. The battery management system protects your over-current, over-voltage, and over-temperature, which can protect the device and extend battery life.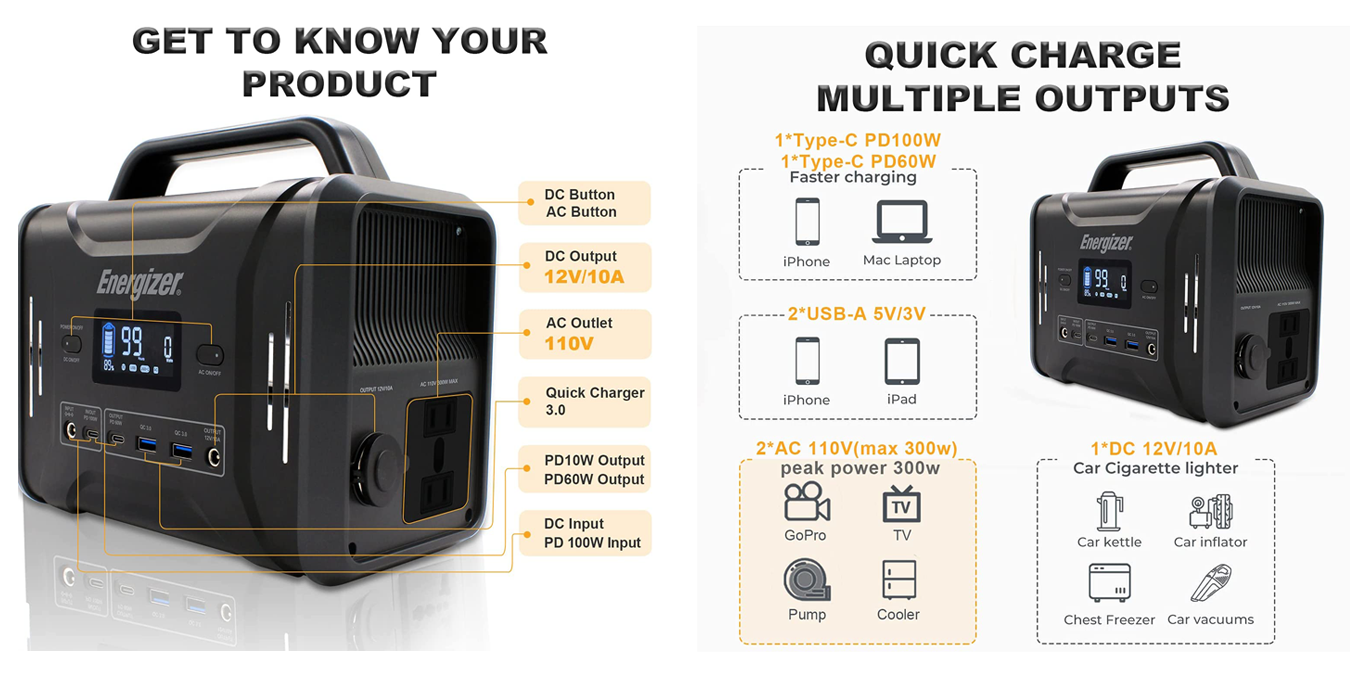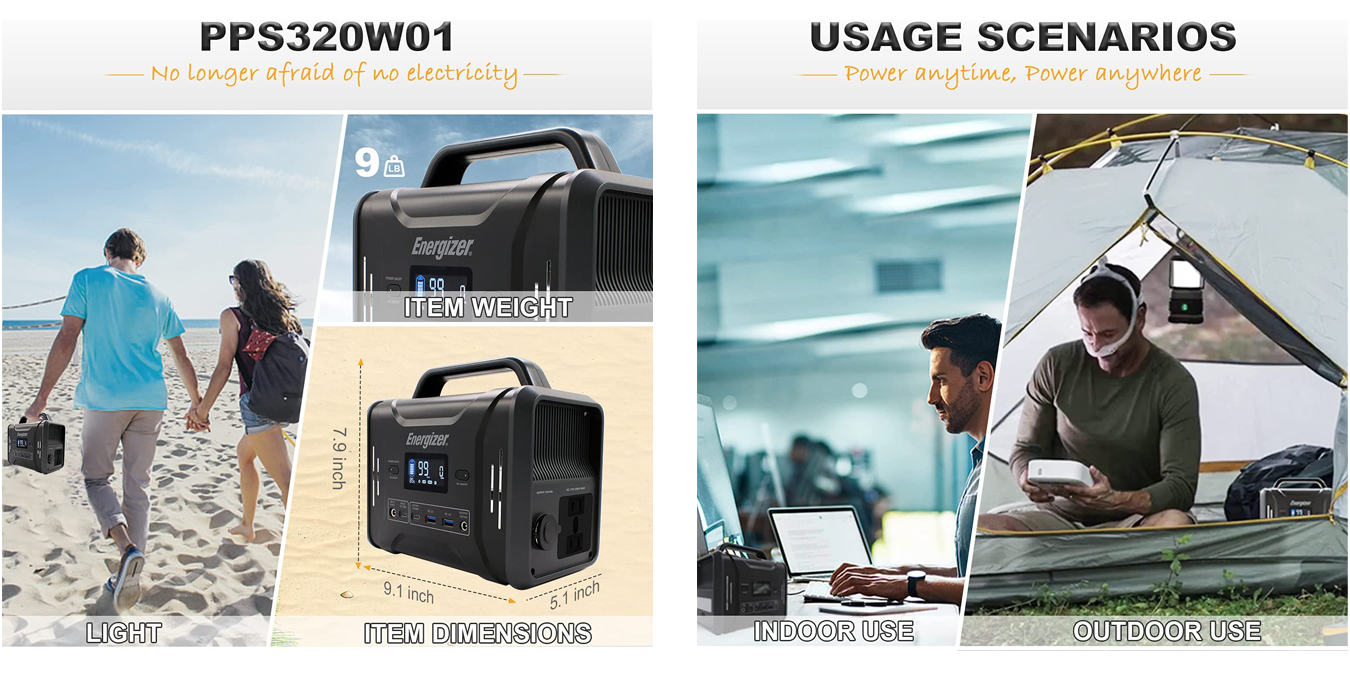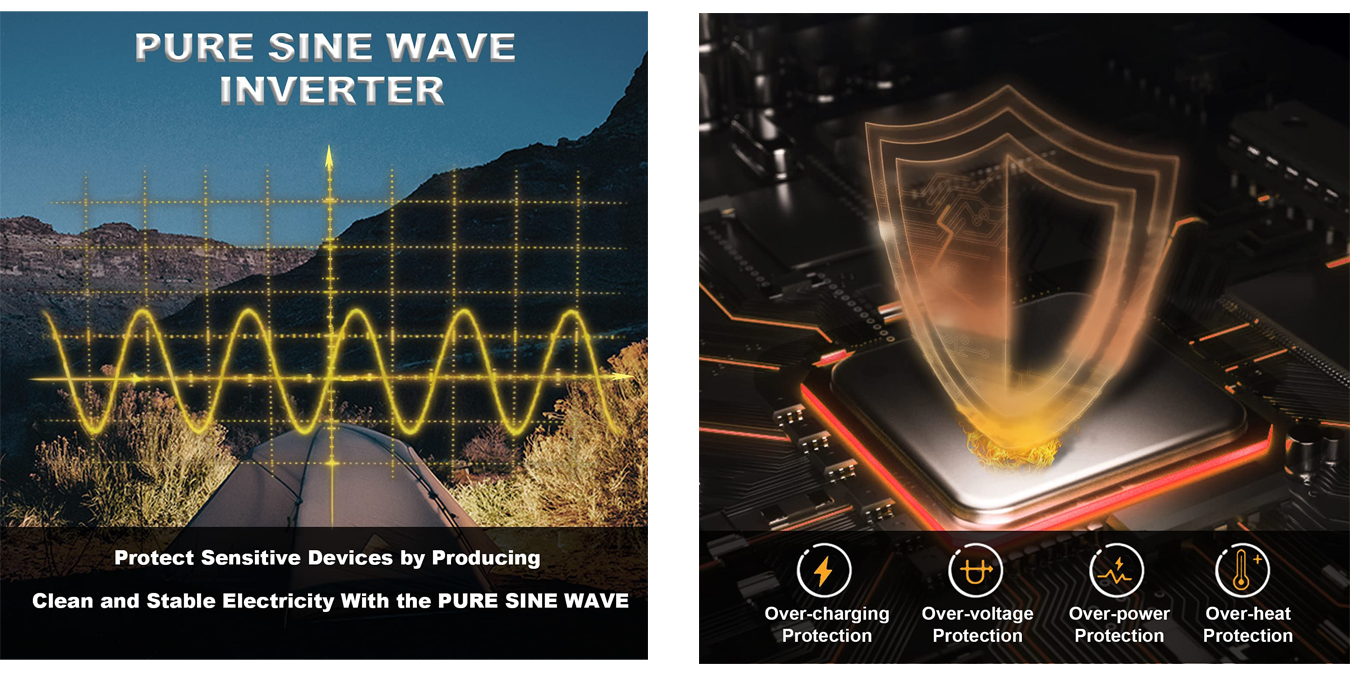 Specs

Model Name
PPS320W01
Battery Cell
LiFePO4 Battery
Capacity
320Wh
Life Cycles
1,000 Cycles to 80% Capacity
Battery Maintenance
Charge Every 3-6 Months
2 x USB Output
5V/3A, 9V/2A, 12V/1.5A
1 x USB-C Output
5V/3A, 9V/3A, 12V/3A, 15V,3A, 20V/3A
1 x USB-C Output/Input
5V/3A, 9V/3A, 12V/3A, 15V,3A, 20V/3A
1 x 5.5mm Output
11.2-14.6V/10A
1 x AC Output
220V 50Hz, 300W, Sine Wave
Charging Input
Adapter: DC10.8-23.5V
Solar Panel: 10.8-23.5V
Weight
4.1kg
Dimensions
23.0 x 13.0 x 20.2cm
Operating Temperature
0-40 ℃
Illumination
1 Ultra-bright LED