EcoFlow DELTA Pro Power Station
EcoFlow DELTA Pro Power Station represents the new standard of battery-powered generators. Compatible with a wide range of devices, you can stay powered for hours whenever and wherever.
RECHARGE 0%–70% IN JUST 60 MINUTES EcoFlow patent X-Stream Technology empowers EcoFlow DELTA to recharge at 10 times the speed of most portable power stations in the market
5x 3600W AC OUTLETS & 3600Wh CAPACITY The large inverter load enables EcoFlow DELTA to power most home appliances and heavy-duty DIY tools under 2400W (7200W Surge, Pure Sine Wave) with 3600Wh capacity
FASTEST RECHARGE BY SOLAR AND CAR EcoFlow DELTA can be fully recharged by solar panels in about 4 hours, and fully charged through a 12/24V car port < 10 hours.
POWER 13 DEVICES SIMULTANEOUSLY EcoFlow DELTA fits with every port you'll ever need to power any devices anywhere, so you will always feel right at home.
3.6kWh – 25kWh Expandabale Capacity
Power Your Home For Days
DELTA Pro's capacity starts at 3.6kWh. Enough for hours of heavy-duty use. It doesn't stop there either, expand all the way to an industry leading 25kWh by adding another unit, Extra Batteries and Smart Generators. That'll keep you going even during extended blackouts.
Convenient & Fast Dual Charging
EcoFlow DELTA Pro charges up safely and rapidly from 0-70% in just 2 hours. And it gets even better. If you're looking for an even faster way to charge up the EcoFlow DELTA Pro, you can combine AC with the smart generator to get up to 3400W, AC with solar to get up to 2600W, or the Smart Generator with solar to get up to 2600W. (EcoFlow DELTA Pro needs to be connected to the EcoFlow DELTA Pro Smart Extra Battery for dual charging.)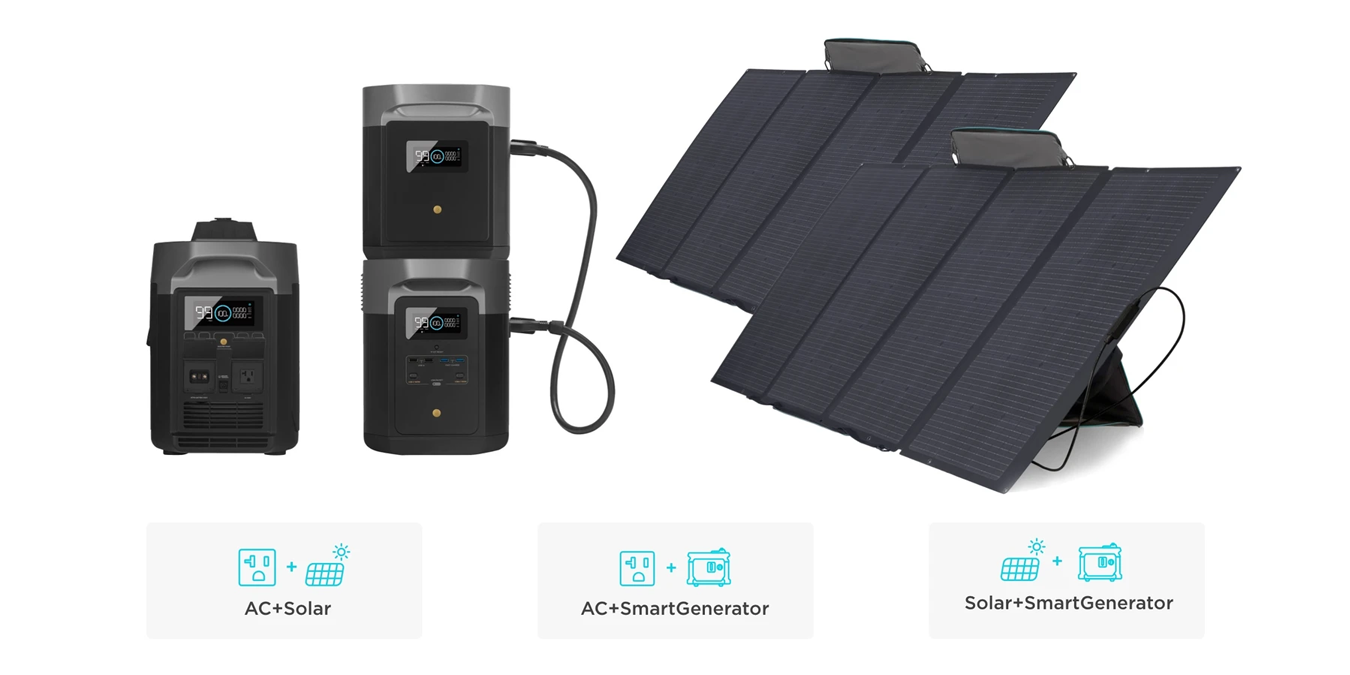 3600W-7200W AC Output
Power Pretty Much Anything
AC units, kitchen appliances and power tools are all accessible with DELTA Pro. Use a single unit to power up to 4500W¹ of appliances. Need even more power? Chain two units together to hit a record-breaking 7200W, 240V output².
Heading outdoors? Power your whole RV or campsite and rest easy knowing you've got enough power to keep you going for the long-haul. With DELTA Pro's plethora of ports, you can even power up to 15 devices at once.
¹ With X-Boost mode turned on.
² Requires use of the Double Voltage Hub or Smart Home Panel (both sold separately).
Disasters can occur at any time of the year, sometimes lasting longer than we ever expected. When extended blackouts hit, the EcoFlow Smart Generator serves as an emergency option that integrates with EcoFlow DELTA Pro. It auto-starts when your EcoFlow DELTA Pro hits a low level of charge, recharges your EcoFlow DELTA Pro, and stops the engine all by itself once your EcoFlow DELTA Pro hits a full charge. This gives you a reliable emergency backup option that relies on minimum use of a generator.
Control, Monitor & Manage Your Energy Use
Control and monitor your EcoFlow DELTA Pro with the EcoFlow app. Dive into the settings to customize your power use or control EcoFlow DELTA Pro remotely.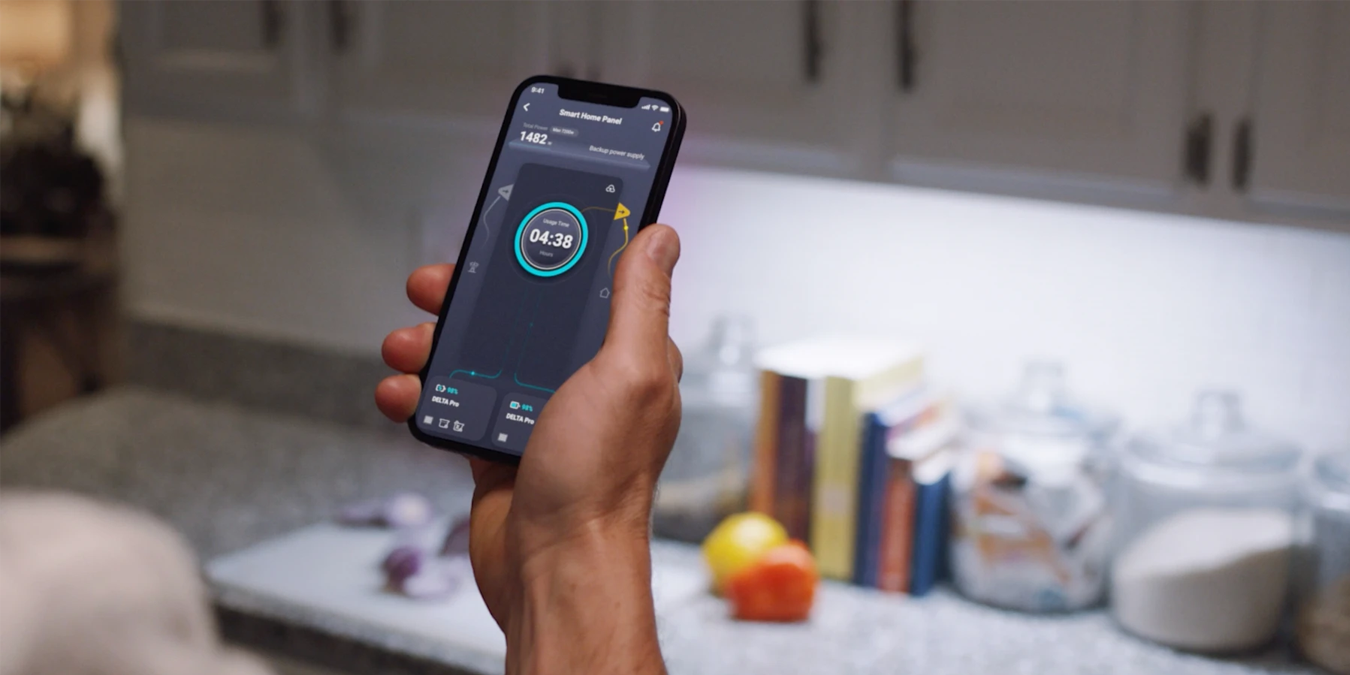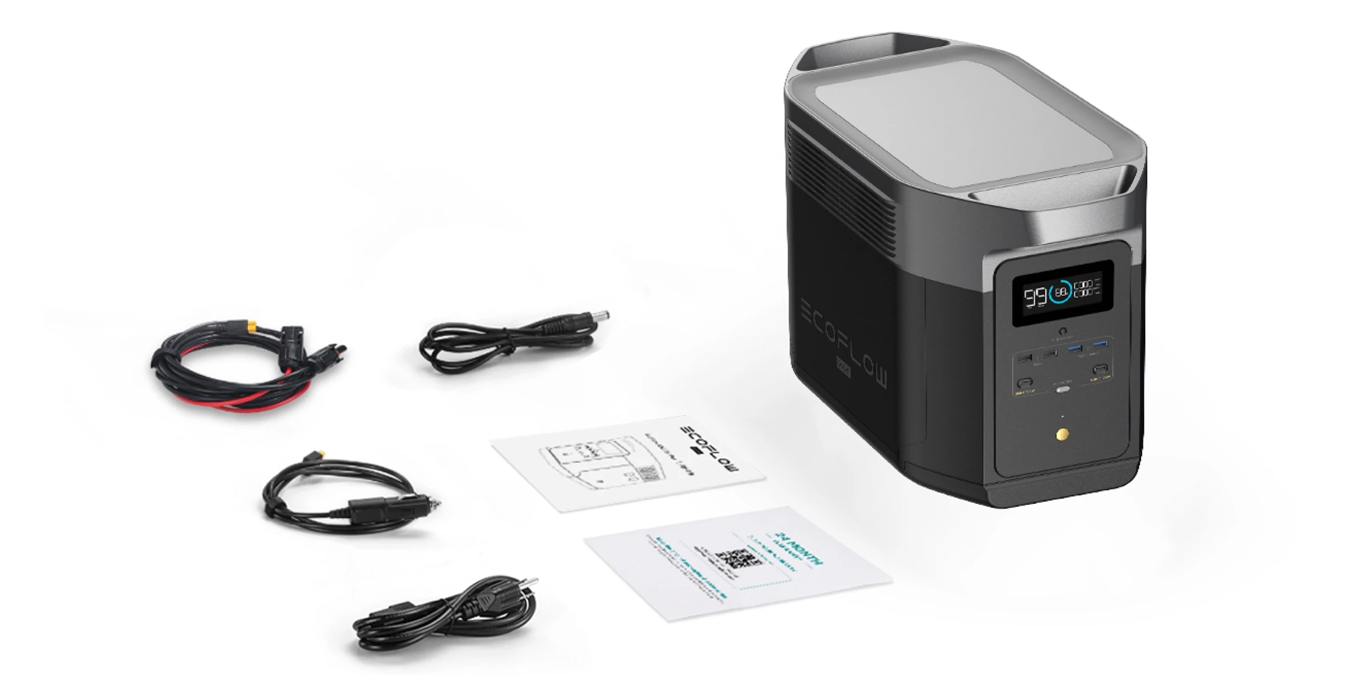 Specs
Quick Look

Total Outlets

15

Mobile App

Yes

 

Extra Battery

Yes

Net Weight

45kg

 

X-Boost Output

4500W

Capacity

3600Wh

 

AC Charging Input

3000W Max, 240V, 12.5A

AC Outlets

3600W

 

Solar Charging

1600W

Battery Chemistry

LFP

Output

Total Outlets

15

Anderson Port

12.6V, 30A

 

X-Boost Output

4500W

Car Power Output

126W

 

USB-C Output

100W

Number of USB-A Output

2

 

DC5521 Output

12.6V, 3A

AC Outlets

3600W

 

Number of USB-C Output

2

USB-A Fast Charge

18W

 

USB-A Output

12W

Number of USB-A Fast Charge

2

Input

AC Charging

3000W Max, 240V, 12.5A

Solar Charging

1600W

Battery

 

Shelf Life

1 Year

Cycle Life

6500 cycles to 50% capacity,
3500 cycles to 80% capacity

 

Batter Chemistry

LFP

 

General

 

Mobile App

Yes

Certificates

UL, CE, FCC, RoHS, TELEC

 

Bluetooth

Yes

Net Weight

45kg

 

Wi-Fi

Yes

Dimensions

63.5 x 28.5 x 41.6cm

Environmental Operating Temperature

Storage Temperature

-10°C ~ 45°C

Optimal Operating Temperature

20°C ~ 30°C

 

Charge Temperature

0°C ~ 45°C

Discharge Temperature

-10°C ~ 45°C