Stay off the grid with EcoFlow 160W Solar Panel. Made up of efficient monocrystalline silicon cells, it can recharge portable power stations and your electric devices, and keep your equipment running without interruption when connected to our portable power station.
COMPATIBLE WITH MOST GENERATORS With the MC4 to XT60 cable, you could charge DELTA and RIVER Series portable power stations;
UPGRADE HIGH EFFICIENCY Compared with other solar panels, the chainable feature enables you to chain solar panels together with the parallel cable which gives you ample power for your power station; ( 4x160W Solar Panels in parallel for DELTA, 2x160W Solar Panels in parallel for RIVER)
PORTABLE & FOLDABLE KICKSTAND PANEL Designed with a rubber handle and flexible bracket stand, our solar panel can be used to adjust the angle from 0-180 degrees.
WATERPROOF & DURABLE The solar panel is waterproof to endure all weather conditions, ideal for outdoor activities.
Power your everyday appliances at home and off-grid with sustainable solar energy.
Portable Solar Energy
Power the great outdoors
Lightweight and travel-friendly, EcoFlow's 60W, 110W, 160W, and 400W solar panels are ideal for camping and outdoor activities. Charge your portable power station in just a few hours to power up essentials like a coffee maker and laptop. Our foldable 400W solar panel is one of the first of its kind. Plug into your portable power station or home backup system for faster and more convenient charging.
High-Efficiency Solar Cells
Capture More Rays
Made using highly efficient monocrystalline silicon cells. And with an exceptional energy conversion rate of 20-21%, you get more energy with every cell. Plus, when connected to an EcoFlow solar generator, the Maximum Power Point Tracking (MPPT) algorithm auto-adjusts, guaranteeing a constant and stable power supply.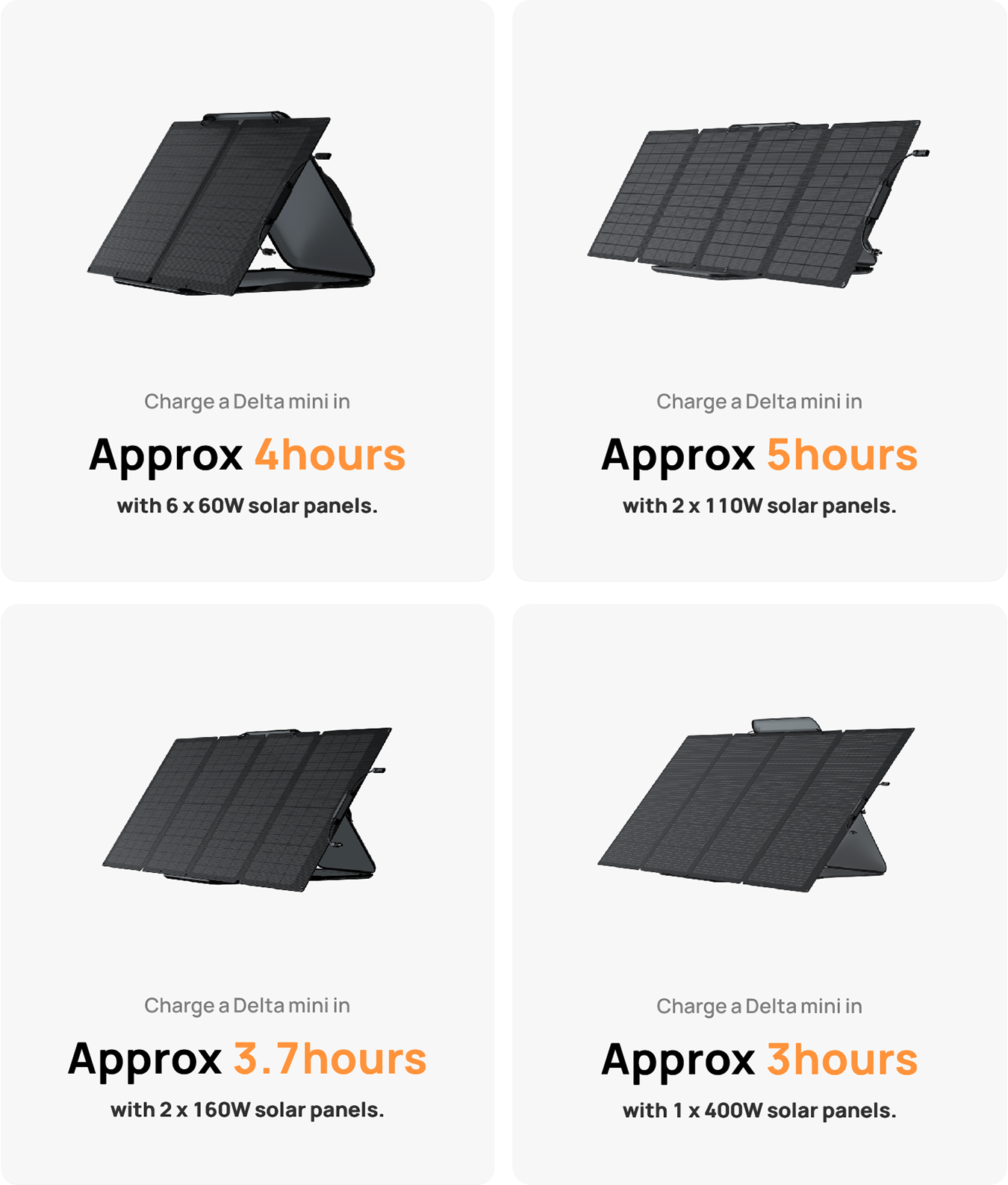 MC4 Connectors
The Perfect Power Couple
All EcoFlow solar panels use a universal MC4 connector, so they work with almost all third-party portable power stations as well as EcoFlow's.
Lightweight & Foldable
Designed for Portability
So lightweight and easy to transport, EcoFlow's portable solar panels are a camping-trip must-have, keeping you powered up for longer.
Long-lasting Materials
Strong Enough to Weather a Storm
An IP67 waterproof membrane protects solar cells from dust, debris, and rain. On the ground while you camp. On the roof of your home. And even on top of your RV for solar charging on the move. What's more, our 400W solar panels have an additional layer of fiberglass, protecting the cells from bending and damage.
Specs
Rated Power

160W

Cell Type

Monocrystalline Silicon

Efficiency

21% – 22%

Bifaciality Coefficients

–

Solar Panel Weight

Approx. 5.0kg

Weight (with kickstand case)

Approx. 6.4kg

Dimensions (unfolded)

68 x 157 x 2.4cm

Dimensions (folded)

68 x 42 x 2.4cm

Open Circuit Voltage

21.4V (Vmp 18.2V)

Short Circuit Current

9.6A (Imp 8.8A)

Connector Type

MC4